We Offer Commercial Plumbing Maintenance & Repair
If you have a commercial business within the metropolitan Denver area and need help with your plumbing, contact Rooter66 Plumbing & Drain Cleaning at 303-596-0265 for the best service and competitive rates. We offer fast, reliable, and friendly plumbing service to Denver, as well as Thornton, Northglenn, Broomfield, and Westminster.
We service all types of businesses, including medical offices, veterinary offices, financial institutions, technology companies, and more. Each business has its unique needs, and our professional technicians are highly trained and knowledgeable in all aspects of commercial plumbing. This includes keeping up-to-date on the latest government regulations so you can keep your business within code.
Our expert commercial plumbing services in Denver include:
General Plumbing Services – Our fast, responsive plumbing services include basic leak repairs and clog removal.
Commercial Water Heater Repair and Installation – We are experts in commercial water heaters, including tankless water heater service and setup.
Drain Cleaning – If you have a business such as a dental office that requires frequent use of indoor drains, we provide full drain cleaning services. We also service outdoor drains, and can improve the drainage systems around your property.
Sewer Line Repair and Cleaning – Rooter66 is fully capable of handling your sewer line needs, including repairing broken underground sewer lines.
Plumbing Inspections and Audits – We can help with annual inspections and we can also review your existing systems to determine areas of weakness and outdated systems.
Water Efficiency – Many companies in Colorado like to "go green," and one practical way to do that is to improve the water efficiency of your business. We can help by installing low-flow toilets, aerated faucets, and energy-efficient water heaters.
Installations, Upgrades, and Remodels – Whether you are building a new commercial building from scratch or you need to remodel an old one, we can help with the installation and/or upgrade of your commercial plumbing systems.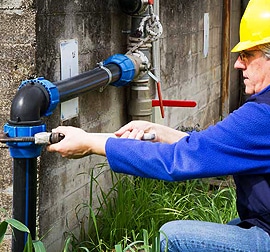 Rooter66 Plumbing & Drain Cleaning takes pride in our team of licensed plumbers who have undergone thorough background check and drug screening. Our commercial plumbing experts in Denver are equipped to handle any plumbing job.
Just contact us at 303-596-0265 to discuss your commercial plumbing needs. Our friendly staff will give you a comprehensive estimate before we start to do any work. We are committed to offering the absolute best service at fair prices, so we promise not to give you any "gotchas" on your final invoice.
Before our technicians arrive to begin work, we will go over any potential disruptions to your business. We work with you to create a plan to mitigate any downtime that may affect your company. Then, once on the job, we will complete the plumbing work quickly, efficiently, and accurately to minimize any inconvenience to your staff and customers.
As a family-owned business, Router66 understands how important a business is. Not only is it a source of livelihood, it also gives us a sense of purpose. We also see our customers as our extended family. We will treat your business with the utmost respect and care because we want you to succeed and thrive. With our help, your business will have the best plumbing systems to support the great work you do.
Call 303-596-0265 Now and Get Your Pipes Fixed with Rooter66 Plumbing & Drain Cleaning